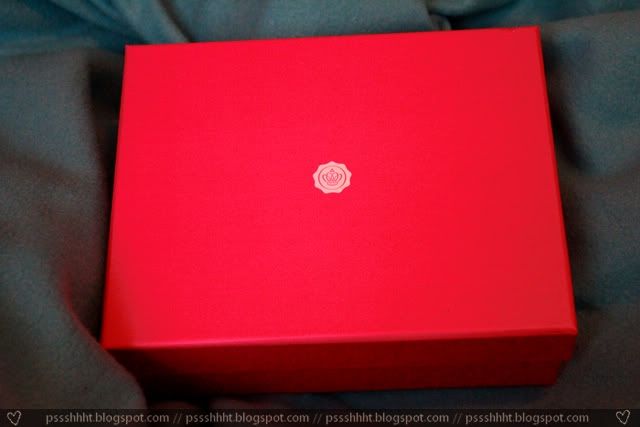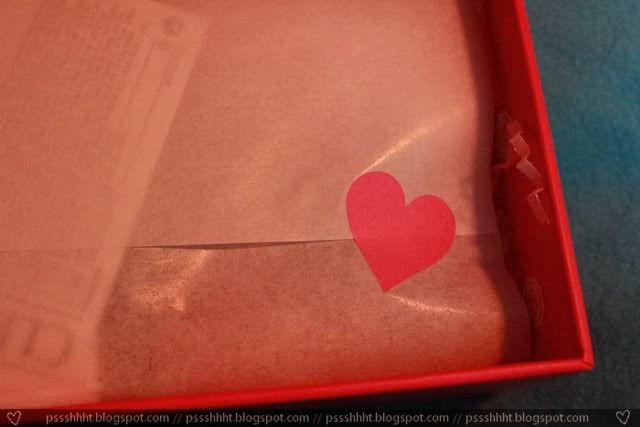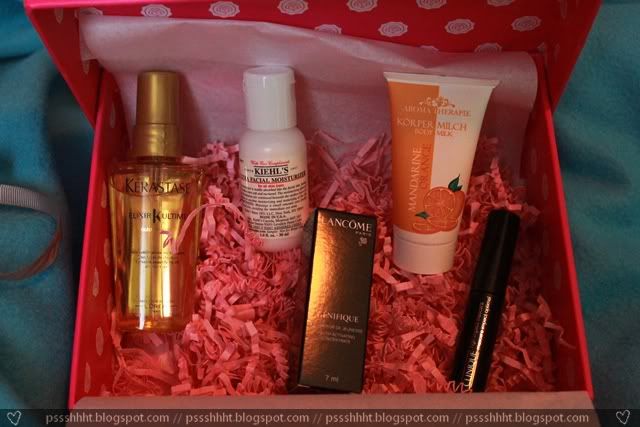 So I finally managed to take photos and even open the box. I got it on Monday but just had no power to open it – as I wrote in my last post I'm sick.
So since this Glossybox is also a Valentine's Day Edition it is bright pink – which I quite like to be honest.
So what's in the box?
- Clinique High Impact Mascara: I'm really glad that this isn't a mascara for long lashes. I don't like those. I like mascaras which make your lashes really really thick and doesn't separate the lashes. So I hope the mascara really is a good volume mascara. I haven't tried it yet, the other products either.
- Kérastase Elixir Ultime: It says that this is an oil for the hair – you can use it in many different way. Depends on what "hair problem" you have. I guess I'm gonna use it for my tips – so that I can brush my hair easier and I guess it's not bad for my "ex-ombre-hair" tips.
- Kiehl's Ultra Facial Moisturizer: Just like the lovely Lina said on her Blog – I can't wait to try this out. In the past I never ever used moisturizer cause I had rather oily skin. Now I just have an oily T-zone but the area next to my nose is pretty dry. I already use the seaweed lotion during the day before I put on my make-up – but during the night I have nothing on. So I hope this one will help my little problem a bit.
- Lancôme Génifique – Konzentrat: I have no idea how to use this to be honest. Well, not exactly. I read the little instruction in the little box in which this product came – but for some reason didn't find anything how to exactly use it. I guess I'll just smear it on my face and end. Tho I don't even need an anti-aging product. I'm 23 wrinkle-less. But have an anti-aging product in every beauty box haha.
- Styx Naturkosmetic: It's a body milk which smells like Oranges and Mandarins. Enough said I guess. I think everyone can imagine what kinda product this is. :)
I'm pretty sure I'll try every product. I always do that. Even if it's just once. I just have to know how it is. If I wouldn't try it what's the point in buying a beauty box then?
PS: Thank you to beaute-test.com for posting my link on the forum!! I just wanted to say my box is not German it's the Austrian version :)