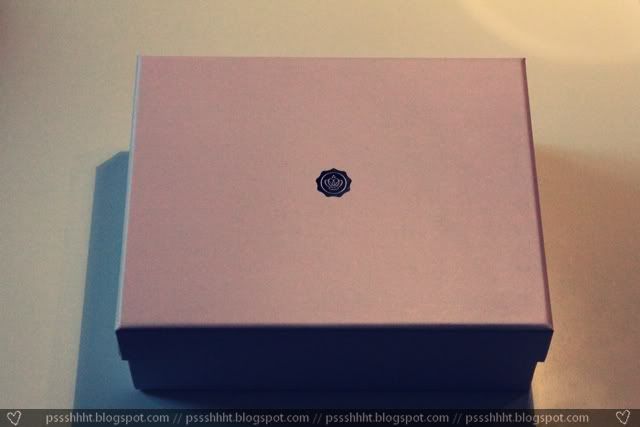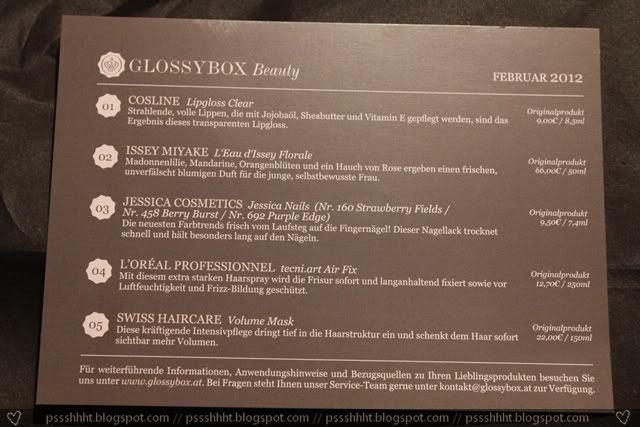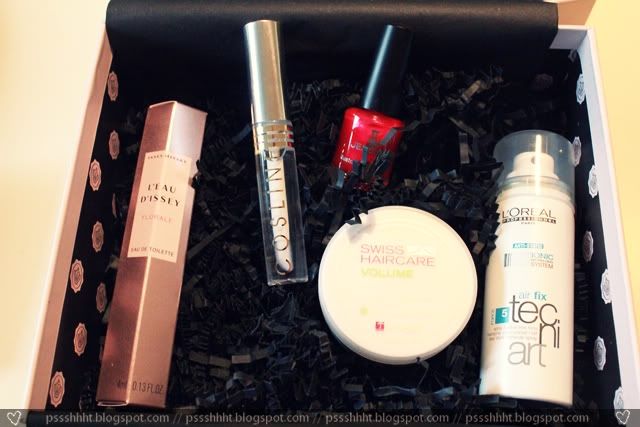 Got the Glossybox!! It was nice to get home after a very long day and see 2 boxes (one was my new calendar) on my bed waiting for me.
Now the products:
- Cosline Lipgloss Clear: I think this lipgloss isn't too bad – I'm usually not a lipgloss fan. I just don't like that weird sticky thing on my lips. But this one has good stuff in it – like Jojoba-oil, Sheabutter and Vitamin E.
- Issey Miyake L'eau d'Issey Florale: Another perfume tester in my collection. Another one I won't use I guess. It's good and smells fresh and fruity kind of – but it's just not my cup of tea. I just like other scents. Like my current perfume is Amor Amor.
- Jessica Cosmetics Jessica Nails: I love that color! I think I'm gonna put it on my nails this weekend – tho I usually don't like red nails at work, cause when I have to fold letters for example I have red lines on the paper. But I just love that color. I didn't try the nail polish out yet, so I don't know how well or bad it is to apply.
- L'Oréal Professionnel tecni.art Air Fix: I don't know why, but at first I thought it's a deodorant. I was very close to trying it out and thank goodness realized it's not for spraying under my armpits! It's a hairspray. Good thing! Cause I just started using hairspray to have a tiny bit of messy hair when I let my hair down.
- Swiss Haircare Volume Mask: Also a hair product. Will use it ASAP cause I have straight hair which is not full of volume. Hope it works. I wanted to try it out yesterday, but forgot lol.