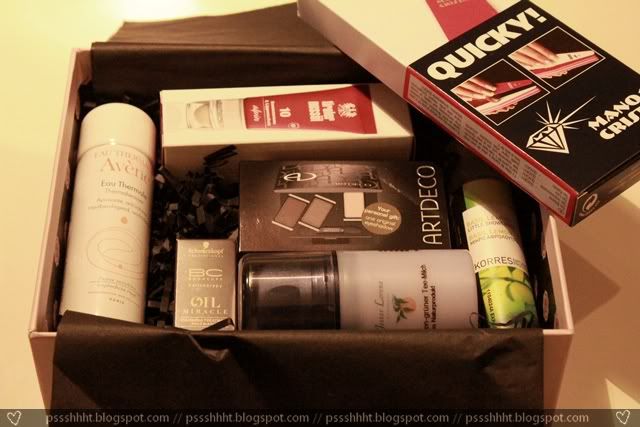 I got my Glossybox today. My mom called me at work to tell me. Cause I was desperately waiting for it – I thought it's not been sent cause I usually get a mail that it's payed but this time I didn't. I even sent Glossybox mails asking if there's something wrong? Cause
Lina
got it already and usually we get it the same time and as I said I didn't get a mail.
But enough of my little almost drama.
Arteco
Eyeshadow Pearl: I found this a little ridiculous to be honest. Cause when you open it – there is ONE eyeshadow in it (a color I already have in various pallettes) and the other three colors are just pictures. So it looks like there are 4 eyeshadow colors in it….but there is actually only one, cause the other 3 are just pictures.
Eau Thermale Avène
Thermalwasserspray: I already love that one! It's perfect for summer. I wanted to have a spray like that for a while but never bought/found one. Now I have one – and I'll have it in my handbag. So I can use it in summer, when it's hot outside.
Korres Nautral Products
Basil Lemon Showergel: Smells a little bit like toilet cleaning stuff…but I still used it today haha.
Jester Lorena Cosmetics
Bodylotion: Another bodylotion in my collection of bodylotions which I never really use. I have bodylotions but after showering I either forge about them or am too lazy to smear it all over my body.
Schwarzkopf Professional
BC Oil Miracle: Another hair oil. I sometimes use it…but I feel like it's kind of useless, cause my hair tips are healthy and not dry or destroyed. I don't have dry hair at all.
There were also 2 additional products in the box:
Tiroler Nussöl
– which means "nutoil" – never heard of that before, but maybe I'm gonna use it. It's like sunscreen – but I got the type for "used to sun"-skin, which is perfect I guess. I usually never use sunscreen – never had a sunburn (knocks on wood). The only problem is – the tube is tiiiiny. It's probably not even enough for my face!
There was also a nail file called
Quicky
in the box – I'm not gonna use it. I'm gonna give it away as a present as soon as I get the chance. I don't use nail fils which make shiny nails or smooth ones etc. It's not making much sense for me. So away with it.