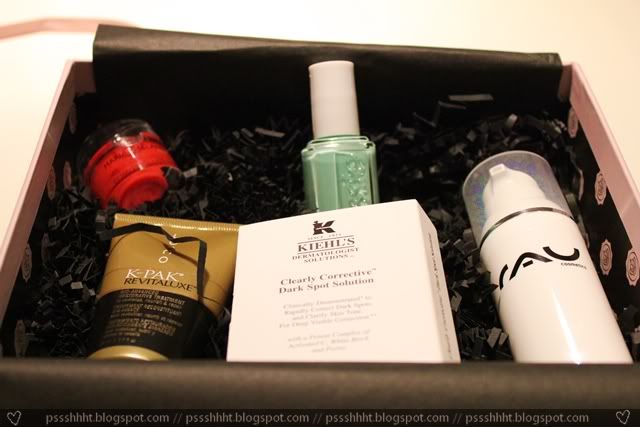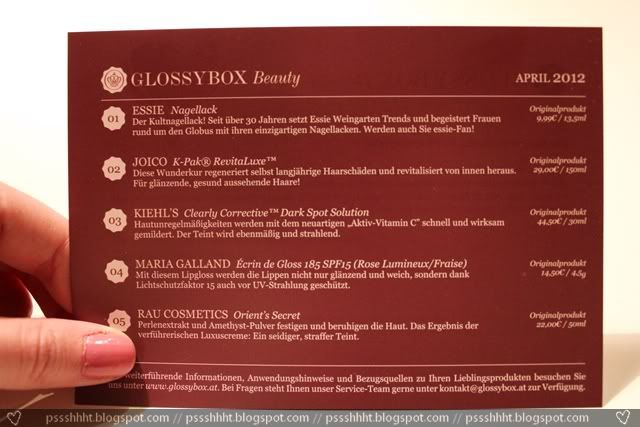 I got my Glossybox on Friday. But I didn't post this review , because Lina didn't get it until now. And I didn't want to spoil it for her.
(From now on with numbers in front of the text not the product name anymore. Yeh, I'm too lazy to write the names. I obviously use the numbers from the card above. You can check out which number each product has.)
01. I'm kinda happy that there is an Essie nail polish in this box. It's my first one. Because I don't wanna spend that much money on a nail polish just cause of the name. I have the exact same color already (by Essence).
02. Hair repair product. I don't need it right now, but maybe the day will come – and then I'm prepared!
03. I don't know if it's just my imagination or something, but I used this for the last couple of days and I think that my skin got a bit better. I don't have those "semi-spots" at the moment.
04. Lipgloss. Will keep that in my hand bag. Tho I don't use lip products a lot. But I'm working on that.
It's really sticky tho. And after a while it gets grainy – like you smeared sugar on your lips or something.
05. Another skin product. Will try it out. I try almost everything that's in my Glossybox.

AND I love the tote bag that was in the box too!!
(How excited can you be about a stupid tote bag?!)