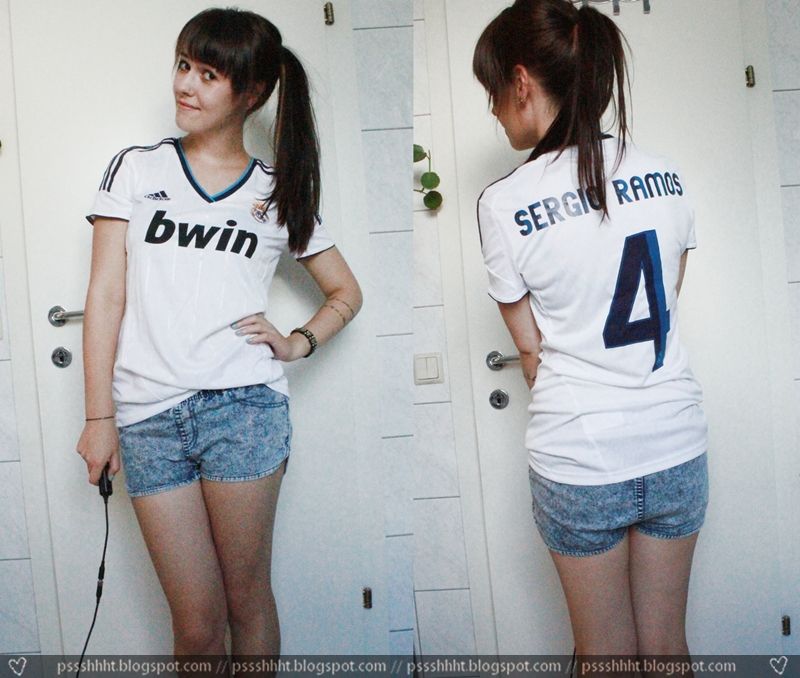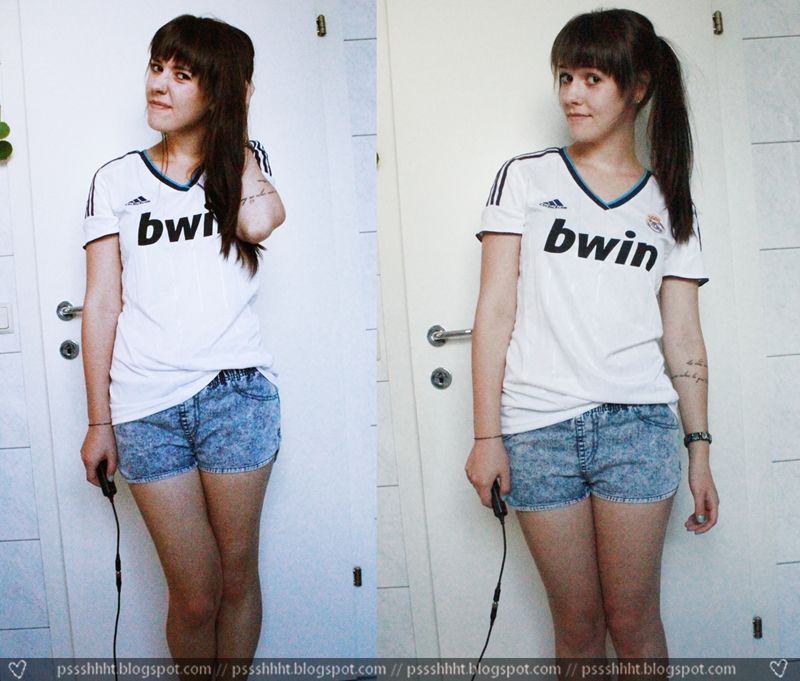 Shirt:

uksoccershop

// Shorts:

H&M
Some of you might know it, some of you might not know it. But I'm a huge football fan. My favorite teams are (obviously) Real Madrid and the Spanish National Team (besides the Austrian one of course - but we all know how amazing Austria is in football -.-).
In May my brother came to me and asked if I could order him a Spain football shirt - my brother who never liked football, but obviously decided to become a football fan for the Euros2012. Of course I did that. I've ordered his shirt (of a player he didn't even know how he looks like!) and took the chance to order one for myself too. I wanted the newest Real Madrid shirt BUT they didn't have it in stock yet - so I've waited a couple of days. They still didn't have it so I've ordered another one (from last season). About three days after I placed my order I got the newsletter from UKSoccerShop, where I've ordered the shirts, saying they've got the new Real Madrid shirt in stock! Argh!
Later my brother's shirt arrived - mine wasn't in the bag. So, I waited - and after like a month I sent them a mail asking what's up with my shirt. They told me that they don't have it in stock but they're trying to get it for me. So I waited - and after another month I asked them again. They told me they still didn't get it - if I wanted to pick another shirt. YESSSS!!!! That was my chance to get the newest Real Madrid shirt. And as you can see in the photos above - I got it.
You probably don't care anyway - but that's the story behind that shirt. And no, I didn't get this shirt because I just think Sergio Ramos is hot (he's not ugly tho). He's an amazing football player! That's how I noticed him in the first place. And I'm not watching football to see hot guys. I put all of my heart in this - which is not good. I'm way too emotional when it comes to football and my teams.
END.